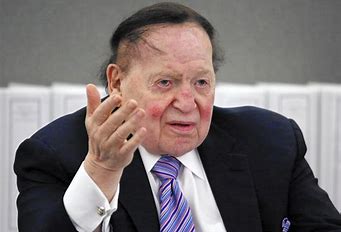 The rise of anti-Semitism in the U.S. and the schism between the majority of American Jews are going to become wider and more polarized thanks to the announcement that 84-year-old billionaire Sheldon Adelson is planning on giving at least $100 million to the Trump campaign and the Republicans.
According to an article in The Guardian, "The billionaire casino owner Sheldon Adelson, an ardent pro-Israel conservative, is expected to donate at least $100 million to boost Donald Trump's 2020 re-election efforts and Republican congressional candidates this fall, say three Republican fundraisers familiar with Adelson's initial plans.
"Adelson's hefty checks are expected to be written to several Super Pacs – political groups that have to disclose their donors – as well as "dark money" not-for-profit organizations that can keep their donors secret, say the fundraisers.
"One source predicted that Adelson, who in tandem with his Israeli-born wife, Miriam, donated more than $100m to Super PACs and dark money groups in each of the last two presidential cycles, could wind up contributing close to $200m in 2020 given their recent spending patterns and appreciation for Trump's policies.
The article noted that "Adelson and his wife have been opening their wallets wider in the Trump era."
Sheldon Adelson Backing Bad People
Backing Republican conservative candidates is nothing new for Adelson.  In 2012, he donated $150 million to block the election of "socialist" and "anti-Israel" candidate Barack Obama.  He also backed Newt Gingrich for president in 2012.  As Speaker of the House, Gingrich transformed Congress by endorsing government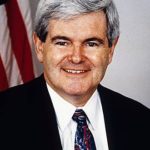 shutdowns, and was found guilty of numerous ethical violations, including being caught in an extramarital affair with a congressional employee 23 years younger than him. This forced Gingrich to resign his speakership in November 1998 followed by his full resignation from the House in January 1999. Gingrich is credited with causing open dissent between Democrats and Republicans and his tirades and disdain for Democrats became his trademark political contribution. This is the guy Adelson supported for president.
Adelson's money has also been used to fund Trump's Mideast policy, including walking away from the Iran nuclear deal, moving the US embassy to Jerusalem from Tel Aviv, and pushing for the appointment of the conservative John Bolton to a cabinet position.
Bad News for the Jewish Community?
Adelson's huge contributions raise other upsetting issues:  Here are some:
Adelson's motivations for his unprecedented contributions are ostensible to generate pro-Israel support from the Trump administration. But are there other goals? AIPAC is widely regarded as being one of the most effective lobbying groups in Washington for pro-Israel issues but has recently been criticized as being too politically conservative and attractive to U.S. right-wing groups. Are Adelson's contributions coordinated with AIPAC and have they met to align goals and lobbying efforts?  AIPAC says it is non-partisan, but their efforts may appear to be compromised if they worked with the pro-Trump Adelson efforts.
How does Adelson know his money is not going to find its way to support white supremacist groups that may be working under the Republican political umbrella? Since Adelson began to make his huge contributions to Republicans, the number of anti-Semitic incidents has been increasing.  Adelson does not make contributions without having strings attached, so how do his huge contributions parallel the rise in anti-Semitic attacks and incidents nationwide?
How should the overwhelming population of liberal Jews who are Democrats react to Adelson's strong support of the most corrupt presidential administration in history? Adelson clearly does not care about the opinions of liberal Democratic Jews, but his contributions are divisive and may give rise to internal Jewish division.
Adelson's contributions are also supporting anti-reform movements in Israel by buttressing the Israeli conservatives. Netanyahu won't consider more moderate peace concession proposals if he knows Adelson and Trump are his main supporters.  Also, Adelson's money also gives a distorted image to Israelis that American Jews support Adelson and that they also are Republican supporters. This only aggravates the schism between many Israelis and American Jews along political lines.
Adelson has also become a one-main symbol for eliminating money in politics. His huge contributions invigorate the movement to repeal Citizens United and are also an affront to people who believed Trump committed impeachable offenses.
What's in It for Sheldon Adelson?
Large Jewish organizations are understandably reluctant to publicly criticize Adelson, but many should wonder what he is trying to accomplish.
Is it a legacy thing?  If so, why not just focus his donations on Israeli business and charities?  Or, does he want to reshape Republican foreign policies by bypassing the US State Department and Congress?
Both can be more expeditious at getting things done. For instance, the US State Department has spent decades running to the sidelines on the question of relocating the US Embassy to Jerusalem. His money certainly accelerated or prompted this entire move.
But donating money to the most corrupt administration in history only fosters corruption. His donations are not surgically precise but contribute to an authoritarian administration and an ethically weak and subservient Republican Party. Adelson himself was the target of a corruption lawsuit in 2015 when his gambling company was accused of bribing Chinese officials and working with organized crime in Macau. This event probably gave him something to discuss with Trump.
While his money certainly can have positive benefits, Adelson's donations to Trump, like his support of the despicable and venal Gingrich for president in 2012, are both mistakes.