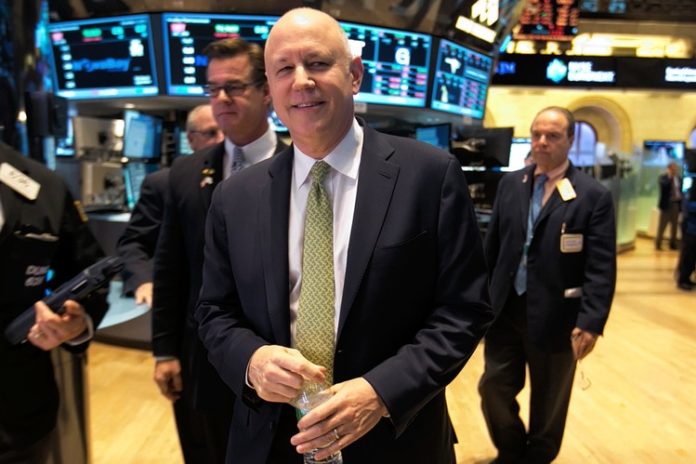 An insider trading accusation at the nation's foremost stock exchange, the NYSE, is something that cannot be ignored.
That's why the The Progressive Investor, a website that tracks corporate governance and individual investor protection issues, is calling for the resignation of the chairman of the New York Stock Exchange after the SEC named him in an unprecedented insider trading scheme along with his wife, a sitting US Senator.
Due to the insider trading charges against NYSE Chairman Jeff Sprecher, Chuck Epstein, the editor of the website, www.theprogressiveinvestor.org, said these charges violate NYSE rules, taint its corporate governance standards, and have seriously tarnished the NYSE's reputation and self-policing authority.
NYSE chairman Jeff Sprecher is also the founder, chairman, and CEO of Intercontinental Exchange, Inc. (NYSE: ICE), the NYSE's owner.
"As the symbol of American capitalism, and the nation's top corporate governance authority, these charges raise issues about conflicts-of-interest, self-dealing and give the appearance of impropriety. All this has damaged the reputation of the nation's public company marketplace and its listed companies. NYSE-listed companies that value transparency and corporate governance should be very concerned when their shares trade on an exchange that tolerates insider trading."
The eyes of institutional and individual investors should all be focused on the NYSE board to see if they have the backbone to address these serious charges.
Epstein, a former NYSE employee and served as managing director of marketing for the New York Futures Exchange, a NYSE subsidiary, said in the NYSE's history it has only been involved in a few financial acts of impropriety.
The first was in 1933 when NYSE chairman Richard Whitney was involved in an embezzlement scandal. The second was in 2004 when NYSE Chairman Richard Grasso was accused of violating New York's Not-for-Profit Corporation Law and misleading its board of directors in the award of an excessive compensation package of $187 million.
Epstein noted that the NYSE is a Designated Self-Regulatory Organization (DSRO) and can investigate and punish member firms and their top executives without SEC approval. As a publicly-traded company now owned by ICE, the NYSE must comply with the same standards it applies to its own listed companies.
In an article on his site, Epstein said Sprecher violated a few NYSE rules:
NYSE Rule 2010. Standards of Commercial Honor and Principles of Trade; and,
NYSE Rule 303A.10 Code of Business Conduct and Ethics, including its conflict-of-interest provisions, and insider trading rules that specifically say, "The listed company should proactively promote compliance with laws, rules, and regulations, including insider trading laws. Insider trading is both unethical and illegal, and should be dealt with decisively."
The insider trading charges against the couple were dismissed by the US Justice Department that cited SEC Rule b5-1. This rule allows company insiders to sell a predetermined number of shares at a predetermined time.
"SEC Rule b5-1 may serve a purpose; however, the timing of these trades by Sprecher and Loeffler immediately after a confidential Senate briefing on the impact of the COVID virus on the US economy has to raise questions about using non-public information, as well as their personal motives," Epstein said.
He noted that insider trading charges against Loeffler were dropped by the Republican-controlled Senate Ethics Committee, the William Barr Justice Department, and the SEC, headed by Jay Clayton, a Trump appointee. During Clayton's tenure, the SEC brought just 32 insider-trading enforcement actions last year, the fewest since 1996.
"Insider trading charges are among the most serious for any director of a publicly traded company, let alone those that involve the NYSE chairman. The people involved in these events have created the perfect storm of money, politics, the appearance of selective enforcement, and cronyism," Epstein said.
"The eyes of institutional and individual investors should all be focused on the NYSE board to see if they have the backbone to address these serious charges."