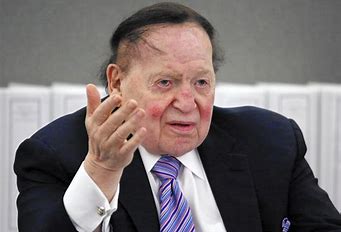 Does anyone notice that as many wealthy Jews contribute to Trump, the rate of antisemitic attacks increases?
Why would Jews contribute to the Republican Party that encourages or creates discriminatory domestic policies that increase the number of antisemitic attacks?
It's no secret that the largest financial contributor to Trump is Sheldon Adelson.  Adelson, a major supporter of Israel and Benjamin Netanyahu, is planning to donate at least $100 million to Trump's 2020 re-election efforts and Republican congressional candidates this fall, according to The Guardian.
The newspaper also said Adelson has donated and is a board member of the Republican Jewish Coalition, a pro-Israel lobbying group that plans a record $10 million drive to lure more Jewish voters in key swing states, such as Florida, Ohio, and Pennsylvania, to vote Republican.  In 2018,  he donated a personal record of $124 million to Republican causes, the Guardian said, "just in publicly disclosed donations to Super Pacs, campaign committees and candidates, according to the Center for Responsive Politics."
Similarly, Nelson Peltz, the billionaire hedge fund manager with an estimated wealth of $1.8 billion, held the most expensive fundraiser for Trump to date: $580,000 a plate. About 40 people attended the event, including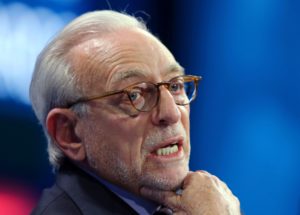 Trump's son-in-law Jared Kushner, and Ike Perlmutter, chairman and former CEO of Marvel Entertainment. The event generated about $10 million for one of Trump's campaign war chests. Peltz has known Trump for years and according to Truthout, Peltz has donated $85,800 to Trump's campaign during 2016 and 2017, plus $75,000 in donations to another Trump political fund.
What's the Connection Between Big Contributions and the Rise in Anti-Semitic Attacks?
Certainly, these wealthy Jews are contributing because it benefits them financially, but at the same time, the number of anti-Semitic attacks has been increasing in the US, according to the Anti-Defamation League (ADL.)
An ADL Audit identified 59 people who were victims of anti-Semitic assaults in 2018, up from 21 in 2017. While the overall number of incidents represents a 5% decline from 1,986 incidents reported in 2017, the number of incidents last year remained at near-historic levels – 48% higher than the total for 2016 and 99% higher than in 2015.
In three other categories– assault, harassment, and vandalism–the ADL reported increases in two of them in 2018:
Assaults: an increase of 105%, to 39 incidents from 19 incidents reported in 2017;
Harassment: 1,066 incidents of anti-Semitic harassment were reported to ADL in 2018, a 5 % increase from 1,015 in 2017, and a 48% increase from 721 in 2016;
Vandalism: 774 incidents of anti-Semitic vandalism were recorded in 2018, down 19% from 952 in 2017, but up 52% from 510 in 2016.
Trump has walked a fine line with white nationalists and at times, has criticized them, while at other times he has delivered a muddy assessment of them. However, his policy aid, Stephen Miller, has communicated with white nationalists and is accused of supporting them. Miller was named a white supremacist by a former co-worker for Breitbart News.
In a great irony, when Miller was accused of being a racist, he responded that he was being persecuted for his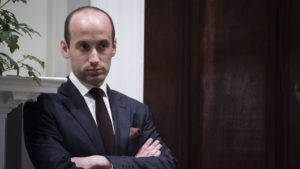 views because he was Jewish. Meanwhile, Miller has denied the charges, but his own family has denounced him as a shanda.  Miller's racist positions are no secret, not is his support from the White House.
Over 100 members of Congress, dozens of civil rights groups and at least 130,800 others have called on Miller to resign, or be fired, but the White House, and the broader Republican Party, has still supported Miller," according to The Guardian.  While many have called for Miller to resign, it is not known if the Jewish donors to Trump have ever asked for Miller to be fired.  The big question is: Why not?
Why Would Jews Have Anything to Do With White Supremacists?
Jewish history is complicated and the current political disconnect is no exception.  While comparisons are difficult to make, there was a time from about 1922 o 1936 when wealthy and middle-class Jews in Italy supported the fascist policies of Benito Mussolini.  This was before Mussolini joined Germany in supporting the Spanish Civil war in 1936, but the attraction of Jews to Mussolini's pro-business policies served a mutual purpose.
Today's situation is very different, but it still raises the question: Why would the billionaire contributors interact with an administration that has a known white supremacist as a senior policy advisor?  How do they know their contributions are not being funneled via a Republican back channel to white supremacist groups?
Given their financial clout, these Jewish donors would certainly get answers from Trump if they asked.
Even if they did not get an answer, Trump's response would certainly telegraph something. So, in the interim, what can they do?
To rectify the situation, these donors should put their names on large contributions to groups that counter antisemitism. It's time to hold these billionaires accountable for at least some percentage of the rise in anti-semitic incidents.
They should realize that Trump's discriminatory domestic policies create a backlash and if they want to help fund bad domestic policies they should also be willing to foot part of the bill to rectify the bad results.