For those who cared to watch, or had the stomach to do so, the Trump Administration had a very rare and illustrative display of raw political and financial power at its press conference to announce the first stage of the US-China Trade Agreement.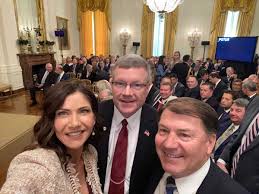 While the Jan. 15, 2020 event was noted for its saccharine, fawning speech by Trump, the real focus should have been on the people in attendance, the very elite of the top 1%, who they represented, their vast wealth and the political power they control.
In the following story, those attending this ceremony are identified, followed by a brief description of their roles and huge compensation packages that are incomprehensible to average Americans.
This rare display of concentrated power in the White House is actually an affirmation that US political power does not reside in Congress.  Instead, it resides in a separate parallel political-financial power structure. This structure is immune to regulation, criticism, and reform by average voters and their ineffective input into the political process.
Oil and gas, financial services, investment firms, and major corporations were all represented by their best and brightest executives. These executives and the corporations they run have absolutely no fear they will ever face any degree of pressure to reforms that they have not written and approved before they ever are introduced in Congress.
The US-China Trade Deal was significantly written by lawyers for America's largest corporations, including many of those attending this ceremony. This was done to show that the US is a corporate-run state, not a democratic one.
"A Monstrous Deal"
In his rambling remarks, Trump termed the deal "monstrous" and in this case, his rampant hyperbole may be accurate.
The China trade deal has provisions covering oil and gas, financial services, insurance, intellectual property, banking, credit rating services, electronic payment services, and securities and fund management.
What follows is a brief description of the top executives, politically connected individuals, their organizations and the Republican Congressmen who attended this signing ceremony.
Financial Services and Banking
Steve Schwarzman. He is the chairman and CEO of The Blackstone Group, a global private equity firm he established in 1985 with former chairman and CEO of Lehman Brothers and US Secretary of Commerce Pete Peterson. Blackstone has $554 billion in assets under management (as of Sept. 30, 2019.) The firm invests in private equity, debt financing, hedge fund management, and real estate.
Alan MacDonald is Chief Client Officer of Citibank. He also is a Vice-Chairman of Citibank; Chair of Citigroup's Pension Fund Committee; Chairman of Citigroup's Private Equity Funds Committee; and a member of the Business Development Committee.
Raymond McDaniel, president and chief executive officer of Moody's Corporation, the parent company of Moody's Investors Service and Moody's Analytics Moody's rating services.  His estimated net worth is at least $99.9 million as of August 2019. McDaniel owns over 7,500 shares of company stock worth over $52,889,893 and over the last 16 years, he sold MCO stock worth over $36,499,851. His annual salary is $10,556,500, according to Wallmine.
Paul Taylor, CEO of Fitch rating services. In 2018, the company expanded its services to include China's onshore bond market as part of its expansion into providing international ratings.
Al Kelly, CEO Visa. He is a former executive at American Express and was named CEO of Visa in 2016.  In 2018 he received $19,493,946 in total compensation. Of this total $1,300,038 was received as a salary, $5,973,500 was received as a bonus, $3,500,008 was received in stock options, $8,693,984 was awarded as stock and $26,416 came from other types of compensation, according to the site, Salary.com.
Mary Erdoes, CEO, JPMorgan Chase Asset Wealth Management. She has an estimated net worth of at least $99.4 million as of January 2020 and owns company stock worth over $71,563,000. She makes $19,900,000 in salary.
Ken Griffin, founder of Citadel, a hedge fund that manages $32 billion in assets. He founded Citadel in 1990. In a Chicago Tribune interview, he said he was a Reagan Republican. He said, "This belief that a larger government is what creates prosperity, that a larger government is what creates good: is wrong."  He has supported Mitt Romney and Marco Rubio for president.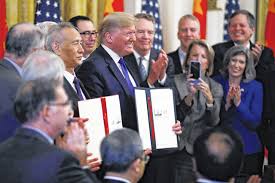 Corporate Investors
Nelson Peltz. A businessman and a billionaire. He is the CEO of Triarc, the franchise parent of Arby's, TJ Cinnamon and Pasta Connection. Peltz is the former owner of Snapple and is a partner in the Trian Fund, a hedge fund.  He has a net worth of $1.7 billion, according to Forbes.
Maurice "Hank" Greenberg, former chairman of AIG.  In 2017, Greenberg and another AIG executive, settled with the New York Attorney General after a decadelong case over financial fraud. In the settlement, Greenberg stipulated "that they had participated in and approved two transactions that inaccurately portrayed A.I.G.'s financial results over four years. They agreed to give up more than $9.9 million that they received as performance bonuses from 2001 through 2004, with Greenberg paying most of that amount," according to the New York Times. AIG was also bailed out by the Fed in the 2008 financial crisis to the tune of $150 billion.
In his lengthy remarks in the White House at the China Trade Agreement press conference, Trump said "If they (the Obama administration) took care of Hank (Greenberg), they wouldn't have had the problems that they had. Where's Hank? Hank Greenberg. (Applause.) Oh, Hank. If Hank stayed there as he should have, you wouldn't have had the problem that you ended up having with our economy." (The repetition is characteristic of Trump's speech pattern.) Trump must think that a $150 billion taxpayer bailout was insufficient to resurrect a mismanaged company like AIG.
Members of Congress in Attendance (All Republicans)
Kevin Cramer (R-ND); Kevin Brady (R-Texas); Mike Crapo (R-Idaho); Steve Daines (R-MT) received $131,100 in PAC contributions from the oil and gas industry in 2020.
Joni Ernst (R-Iowa); Deb Fischer (R-Neb); Shelley Moore Capito (R-WV). Received $127,749 in PAC campaign contributions from oil and gas companies in 2020.  Lindsey Graham (R-SC); Chuck Grassley (R-Iowa); Jerry Moran (R-Kansas); Rob Portman (R-Ohio); Pat Roberts (R-Kansas); Mike Rounds (R-SD) received $90,100 in PAC contributions from the oil and gas industry in 2020.  Dan Sullivan (R-Ark) received $90,300 in PAC contributions from the oil and gas industry in 2020. Kevin McCarthy (R-Cal.), received $158,500 in PAC contributions from the oil and gas industry in 2020.
Vern Buchanan (R-Fla.); Mike Conaway (R-Texas); Kristi Noem, Governor of South Dakota; Drew Ferguson (R-Ga.); Darin LaHood (R-Ill.); Michael McCaul (R-Texas); Patrick McHenry (R-NC); Devin Nunes (R-Cal.); Adrian Smith (R-Neb); Kevin Brady (R-Texas). Brady received about $140,000 in political contributions each from the oil and gas and securities industries in 2019, according to OpenSecrets. He has a 3% rating from the League of Conservation Voters on their National Environmental Scorecard that tracks votes by Congressmen on pro-environment issues.
Corporate Heads
David Abney, CEO, and Chairman of the Board, United Parcel Service. He has an estimated net worth of $45.8 million as of 29 July 2019. His salary is $15,060,900.
Scott Schenkel, Interim CEO of eBay.  He has an estimated net worth of at least $26.6 million as of 15 January 2020. H owns eBay stock that is worth over $11,157,500 and over the last 4 years, he sold EBAY stock worth over $6,907,439. His salary is $8,573,570.
Sanjay Mehrotra, president, and CEO of Micron. His estimated net worth is $21.9 million as of March 2018. Mr. Mehrotra owns over 12,500 units of Micron Technology stock worth over $4,930,564. His salary is $16,944,800.
Steve Mollenkopf, CEO, and director of Qualcomm. His estimated net worth is at least $89.9 million as of December 2018. He owns over 206,000 shares of company stock worth over $60,163,863. His salary is $19,975,500.
Jim Morrison, Head of Jeep at Fiat Chrysler Automobiles.
Robert Thomson, CEO, and director of News Corp, owner of FOX News. His estimated net worth is $21 million as of August 2019. Thomson owns over 413,126 units of company stock worth over $6,291,909. His salary is $14,747,700.
Greg Smith is Boeing's Chief Financial Officer and will serve as the company's interim CEO. David Calhoun, who was also at the signing ceremony, was named president and CEO of Boeing in December 2019. Both assumed new positions as Boeing seeks to recover from the 737 Max plane debacle which has resulted in the deaths of xxx people.
Brian Duperreault, AIG. He has been the CEO of AIG since May 2017.  In his first full year as CEO, Duperreault earned $20.9 million, compared with $43.1 million in 2017, according to MarketWatch. Through its subsidiary, AIG Insurance Company China, AIG wants to build its business through personal accident and health insurance business, risk engineering and selling travel insurance.
Jim Fitterling, CEO Dow Chemical. He also is vice-chair of the National Association of Manufacturers and on the boards of the American Chemistry Council and the U.S.-China Business Council.
Jack Fusco, CEO, Director, and the President of Cheniere Energy. In July 2019, the Blackstone Group said it would be selling its $1.5 billion investment in Cheniere's liquified natural gas export terminal.
Meg Gentle, president, and CEO of Tellurian. Tellurian builds liquid natural gas containment and export facilities.
Darius Adamczyk, CEO, and president of Honeywell. In these positions, he made $18,651,522 in total compensation. Of this total $1,571,154 was received as a salary, $4,100,000 was received as a bonus, $3,185,655 was received in stock options, $9,561,215 was awarded as stock and $233,498 came from other types of compensation. This information is according to proxy statements filed for the 2018 fiscal year, according to Salary.com.
Ajay Banga, president, CEO, and director of Mastercard. In these positions, he made $20, 379,400.  Banga's net worth is at least $260 million as of May 2019.  He owns over 252,600 shares of company stock worth over $170,105,215 and over the last 10 years, he sold stock worth over $69,986,261.
Corporate Lobbying Groups, Think Tanks and Law Firms
Michael Pillsbury and Susan Pillsbury. According to the site, Hollywood on the Potomac, Michael Pillsbury "is one of the leading experts on China and in his book he reveals the hidden strategy fueling China's rise and how Americans have been seduced into helping China overtake the US as the world's leading superpower."  He is considered a policy expert and was an early advocate of establishing intelligence and military relations with China during the Nixon administration when Henry Kissinger then insisted that Russia would object to any positive US overtures to China.
Josh Bolten, President & CEO of the Business Roundtable, an association of CEOs of leading US companies.
Kevin Warsh.  Warsh worked at Morgan Stanley, where he rose to the executive director, and he was considered a top choice to become Federal Reserve Board chairman.  Warsh's father-in-law is billionaire Ronald Lauder, a good friend of Trump. He is now at the Hoover Institution and lecturer at the Stanford Graduate School of Business.
Glenn Youngkin, Co- CEO and director of the Carlyle Group. Carlyle is a multinational private equity, alternative asset management, and financial services corporation. It specializes in corporate private equity, real assets, global credit, and investments.  Youngkin has an estimated net worth of at least $51.6 million as of August 2015. He owns over 100,000 shares of company stock worth over $14,373,965. In addition, he makes an annual salary of $37,247,700. In 2018, the firm fired two people in its Asia real estate fund group as it reorganized to focus on Carlyle's Asian real estate investment in China, according to The Real Deal.
Jay Timmons, National Association of Manufacturing.
Stephen Vaughn, King and Spalding, attorneys, Washington DC.  Vaughn rejoined the law firm after he served as general counsel of the Office of the U.S. Trade Representative (USTR) and former Acting USTR. At the law firm, he will be a partner in the firm's International Trade team.
Leslie B. Daniels, US Trade Representative and member of the Advisory Committee on Trade Partner Negotiations, and Operating Partner, AE Industrial Partners, LLC
Dan DiMicco.  An American businessman who is the former CEO and chairman of Nucor steel company. He served as a trade advisor to Donald Trump during Trump's 2016 presidential campaign.
Jonathan Ward, Atlas Organization. Atlas is a strategy consulting firm focused on China, India, and the Indo-Pacific Region
Tom Donohue, U.S. Chamber of Commerce. According to the site, Polluterwatch, "before taking the helm of the Chamber in 1997, Donahue spent 13 years as president of the American Trucking Association, where he fundraised and lobbied against the Teamsters union.  Prior to the ATA, Donohue lobbied for the U.S. Chamber of Commerce.  The site also said: " Donohue has received a lot of attention for his lobbying and fundraising practices as well as for his $3.7 million salary, chauffeur-driven cars, and private jets. He is currently the sixth highest-paid lobbyist in the country." The chamber denies there is global warming. Famous quotes: "People seem to listen to you more when you've got a bagful of cash." (New York Times, Nov. 28, 2009.)
Oil Industry
Harold Hamm, a shale drilling pioneer, is the former CEO of the oil-and-gas company, Continental.  As of January 2018, Hamm's net worth is estimated to be $14.2 billion, making him the 79th richest person in the United States.
Ryan Lance, Chairman and CEO of ConocoPhillips since 2012.  Lance's net worth is estimated at $26.5 million as of November 2019. He owns company stock worth over $3,084,269. In addition, he makes $23,406,300 in salary.
Larry Nichols, a co-founder of Devon Energy and served as a director between 1971 and 2016. According to the site, Polluterwatch, Nichols is "a major political contributor to candidates who promise to block environmental regulation. One such recipient is James Inhofe. Inhofe has referred to Nichols as a confidant and trusted source on energy policy.
The site also said: "Nichols spends a significant amount of time in Washington DC where he is a registered lobbyist and has affiliations with some of the most outspoken global warming denial groups. He is chairman of the American Petroleum Institute(API), a group that has been caught in numerous attempts to block carbon legislation through astroturfing campaigns. He also sits on the board of the U.S. Chamber of Commerce, which denies global warming science."
Jason Oxman, is president and chief executive officer of the Information Technology Industry Council, the global trade association for the tech sector, representing nearly 70 of the world's most innovative companies.
Gary Shapiro, president, and CEO, Consumer Technology Association. He is quoted as saying "Increasing tariffs are giving the stock markets whiplash, and consumers are getting worried just last month consumer sentiment dropped almost 10 percentage points. The president has overstepped his power on trade, and our nation's businesses and families are footing the bill it's time for Congress to step up for American businesses and consumers."
Mike Sommers, American Petroleum Institute. The API is the lobbying engine of the oil industry and has introduced talking points used by Republicans and Obama.  As of 2014, the site Polluterwatch said "are plans for 25 Liquified Natural Gas export terminals in the US, and the American Petroleum Institute is spending millions of dollars to undo a decades-old law that prohibits the export of crude oil. As more oil and gas is drilled from American soil and water, more gas and oil will be exported. We will continue to import oil and other goods from around the world, regardless of how much drilling happens in the U.S."
John Thornton, chairman of the liberal-centrist Brookings Institution think-tank and former president of investment bank Goldman Sachs.
War Criminals
Henry Kissinger, 95 years old, the former Secretary of State under Richard Nixon, national security adviser and Nobel laureate, pushed for pro-China diplomacy in the 1970s.  He also is known as someone who prolonged the Viet Nam War, promoted secret wars in Cambodia, Laos and Central America, and used them all for domestic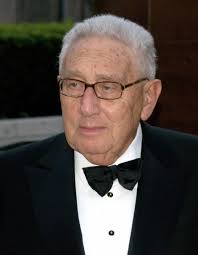 political purposes. He also is considered a war criminal but has never been formally charged, for his "complicity in a coup against Chilean government plus the "killing, injury and displacement" of three million people during the Vietnam War," according to the Global Policy Forum.
Numerous other sites, journalists and diplomats have also accused Kissinger of war crimes. As detailed in the 2001 book, "The Trial of Henry Kissinger" by Christopher Hitchens, "Nixon and Kissinger deliberately sabotaged the Paris Peace Talks in the fall of 1968 (while still private citizens, i.e., illegally), suggesting to the South Vietnamese junta that better terms would come from a Republican administration. The result, of course, was that the Vietnam War was prolonged other four-plus years, which led to the relentless bombing of Vietnam, Cambodia, and Laos, and an additional twenty thousand American deaths and an uncountable number of Vietnamese, Cambodian, and Laotian deaths."  This is the type of guy Trump invited to his China trade deal soiree.