As votes are still being counted in this razor-thin election, it's apparent the Blue Wave never happened.
As a result, even if Joe Biden becomes president, it's appropriate for leaders of the Democratic Party to throw some cold water on their faces and do a serious reality check about what went wrong.
Here is what to consider:
The Blue Wave that failed.  This was a great slogan, but it has proven to be wishful thinking that has fallen far short of its goal. The razor-thin margins in key electoral college states show the deep, and some say irreparable gaps that exist between economic and social classes, religious affiliations, races, and even the level of macho males. Culture wars will persist and there is no sign they are even close to being bridged.
Biden ran a poor campaign and he was not a compelling alternative. His policies protected fracking (which did not prove that helpful in Pennsylvania) and he didn't court the Latino vote (which hurt in Florida). His ground game was also uneven. Michael Moore provided Biden signs in Michigan because the campaign didn't.
The current razor-thin results show Trump supporters are irreconcilable. The DNC should accept that they have an agitated, unrepentant right-wing group ready to pounce on all perceived or actual policies they disagree with. What they need is to create messages that address the underemployed and unemployed. The $15 minimum wage is only a starter, but it also must address wealth inequality and wealth creation, including expanded homeownership.
The US is not ready for Kamala Harris as president.  If you think the right-wingers and Trump supporters hated Obama, wait for any emergence of any news that Kamala Harris will even be considered for a presidential slot. This will energize the right to a frenzied level.
This frenzy will be fueled by the same hatred that had for Obama. However, Obama ignored this hatred and incorrectly believed he could be a bridge to compromise or a peacemaker. He was grossly wrong on both counts.  As a black, liberal woman, Kamala Harris will spark unprecedented vitriol from the right-wing.
Can the Dems Ever Placate Right-Wing Republicans?
This depends on a few scenarios.
First, the Dems can win over some of the more moderate Republicans (if they still exist) if they introduce and pass legislation that meets some mainstream political goals. This includes new jobs in the opioid Rustbelt that will help the white males with high school educations that have a bleak economic future.  These Trump flag-wavers need jobs in order to gain some self-respect, raise their macho levels, and trash their MAGA hats into the fire.  This is a long-shot goal since it involves a macho remake, accompanied by well-paying jobs that offer a future.
Second, the Dems should conduct a study about why the Blue Wave never happened.  The top Dems in the DNC are not very transparent. They never released a detailed report about why Hillary Clinton lost the 2016 election even though Clinton had a campaign budget of $1 billion.  What we know about that historic loss comes from

An incompetent leader?

Wikileaks messages and the accounts that DNC chairwoman Debbie Wasserman-Schultz's focused more on derailing the presidential campaign of Bernie Sanders than she did on helping Clinton. As a result, Wasserman-Schultz should be a persona non grata in Democratic circles since she succeeded in alienating Sanders' supporters, while simultaneously neglecting her duties as head of the DNC. Part of the blame for Trump's victory is attributable to the failure of Wasserman-Schultz.
What The Failed Blue Wave Tells Us
So where does this leave the top Democratic leadership as Democrats ponder the failure of the Blue Wave?
Clearly, the close voter margins in too many key states mean the messages were off-base, not strong enough, or lacked power and empathy.
Yes, it's hard to be emphatic with a red-eyed Trump supporter waving a huge flag, but there were a lot of these people that have been brainwashed. Many of these people are still fighting the Civil War. Can these people be appeased or do they buy the FOX-Pavlovian jolt that Democrats are Communists or socialists?
It's worth noting that Americans have some of the lowest scores on financial and political literacy tests of any nation in the world. This means many people cannot balance a checkbook, select investments for their 401(k)s, or know what the Supreme Court or Congress. Most Americans think Judge Judy is a justice on the Supreme Court (although it would not be a bad idea).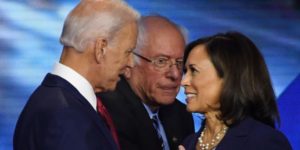 So, as we wait for key states to count their votes, it's clear that it is not too late for the DNC and top Dems, including those at the state levels, to examine what went wrong. The Dems are idealists and, let's face it, wimpy.
This is why they have grossly failed against Republicans who are anti-institutionalists (despite their patriotic claims about the flag and Constitution), focus on their culture wars that unite their followers, and are not ashamed to give the top 1% anything they want. The right-wing also has a racial, macho, class appeal that the Dems don't. The right-wing also bears a grudge. To many of them, Dems are the enemy.  Not much will change this in the near-term.
All these great divisions between people with college degrees, geography, urban vs. rural, and class have to be addressed. The presidential campaign of Bernie Sanders resonated with many people who became Trump supporters, so his policy proposals should be re-examined.
This could increase the Dem's batting average in the next four years.  But if the Dems are not batting at around 350 in four years, Kamala Harris should not come to the plate to bat cleanup. She won't make it.