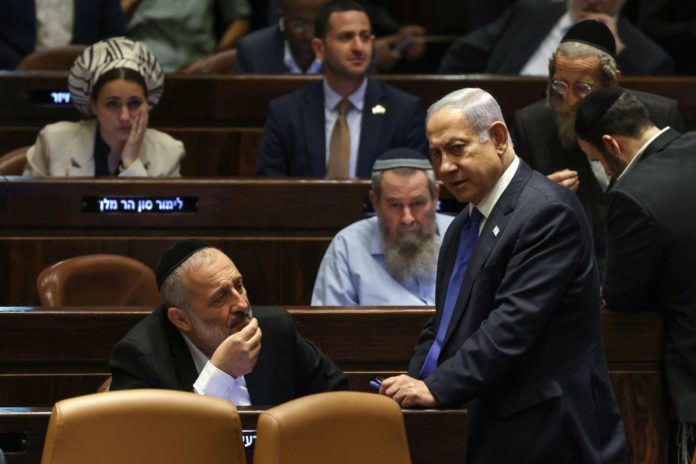 Right-wing Republican Jews have their own agenda in the U.S., but are they exporting money and ultra-conservative support to Israel, too?
The political turmoil in Israel is getting a big financial push from wealthy, very conservative, American Jews and political support from most Republican presidential candidates.
The level of outright support of right-wing factions in Israel by American Jews is unprecedented.
What's prompting it is a toxic mix of arrogant wealth pushing its political philosophy on another democratic state and, to a lesser degree, a belief that more religious Orthodoxy is needed in Israeli politics, accompanied by an expansion of Israeli settlements in disputed areas.
In both instances, these views are opposed by most U.S. Jews, who have historically been liberal and Democrat.
At issue is Israeli Prime Minister Benjamin Netanyahu's push to bring the nation's Supreme Court under the supervision of the legislative branch, which has received significant financial support from conservative wealthy American Jews.
Since the candidacy and subsequent presidency of Donald Trump and his pointed appeal to U.S. Jews for their large donations, some wealthy American Jews have been financing and promoting right-wing political and social issues in the U.S.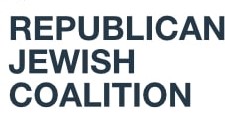 The level of American support for Bibi's coup is also muddied by political support from smaller American groups that have adopted or shown support for pro-Trump positions.
This same cohort of American Jews has also exercised their financial muscle in Israel by supporting right-wing religious groups that support Benjamin Netanyahu and his right-wing partners.
Among these public supporters are:
Arthur Dantchik, a libertarian and a founder of Susquehanna International Group, a hedge fund operation. Dantchik is worth an estimated $7.3 billion, according to Forbes. Dantchik donated millions in tax-exempt donations to the Kohelet Policy Forum, the Jerusalem think tank that developed the radical judicial reforms promoted by Netanyahu. Based on the considerable antipathy towards these judicial reforms, Dantchik said he was withdrawing his financial support from Kohelet In August.
The late Sheldon Adelson. Adelson, who died in January 2021, strongly supported Israel. He began to involve himself in that country's internal politics after marrying an Israeli woman, Dr. Miriam Ochshorn, in 1991. Adelson focused his donations on Prime Minister Benjamin Netanyahu.
He also spent millions on establishing a free newspaper, Israel Hayom ("Israel Today"), in 2007. The paper's editorial position delivered staunch support for Netanyahu and his conservative policies, and Israel Hayom became the most widely circulated paper in the country.
Adelson's wife, now the publisher of Israel Hayom, has backtracked on the paper's nationalistic stance on this issue in response to the unprecedented public demonstrations against Bib's judicial reforms. In an editorial, she wrote about the current "constitutional crisis" and cautioned that the move was hasty.
Adelson wrote: "Regardless of the substance of the reforms, the government's dash to ratify them is naturally suspect, raising questions about the root objectives and concern that this is a hasty, injudicious, and irresponsible move."
To her credit, she also called political calm. "Let us not be ruled by sectarianism, refusal to accept the outcome of elections, or a desire to settle personal scores." She also said, "Bad motivations never bring about good outcomes."
U.S. Republican Presidential Candidates Back Bibi
To attract Jewish donors and appease Christian evangelicals, Republican presidential candidate Nikki Haley has hired director Nachama Soloveichik as her Communications Director.  Soloveichik is the granddaughter of Joseph Soloveitchik, the renowned Orthodox rabbi. She has supported conservative Republican candidates in the past.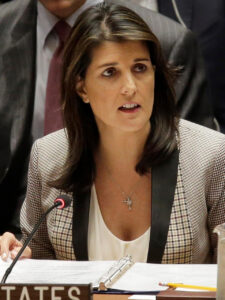 Haley has also criticized President Joe Biden for his comments against Bibi's judicial reforms. Haley said it was inappropriate for the U.S. to intervene in the internal affairs of an ally and a democratic nation.
Haley has already received donations from billionaire backers, including Miriam Adelson and her late husband, Sheldon Adelson; Bernie Marcus, co-founder of Home Depot; and Ronald Lauder, president of the World Jewish Congress. According to the Forward, Charles Kushner, a convicted criminal and father of Jared Kushner, Trump's son-in-law, hosted a fundraiser for Haley last year.
The Old Dilemma of Dual Loyalties
Like Jews in Europe, American Jews have been accused of dual loyalties; that is, is their primary allegiance to the U.S. or Israel?
Contributions by American Jews to support Bibi's right-wing coalition have re-ignited this issue, primarily when this issue centers around whether Israel will continue to be a democratic state.
The Biden administration has already expressed its disapproval of the judicial reform in Israel, which created a sharp response from Bibi that Israel will make its own decisions regarding its internal affairs.
Fair enough, but it also shows a rare public rift in U.S.-Israel relations, which could have far-reaching effects.
In an op-ed in the New York Times, about a week before Bibi's lies to Biden became public, New York Times columnist Nicholas Kristoff suggested cutting or reducing the $3.8 billion in aid and military hardware sent to Israel annually. This has been discussed privately, but now it should come to light.
Kristoff reasoned that "American aid to another rich country squanders scarce resources and creates an unhealthy relationship damaging both sides.
"Today, Israel has legitimate security concerns but is not in peril of being invaded by the armies of its neighbors, and it is richer per capita than Japan and some European countries. One sign of changed times: Almost a quarter of Israel's arms exports last year went to Arab states," Kristoff wrote.
As reported in the Washington Post, the Congressional Research Service said Israel is "the largest U.S. foreign aid recipient since World War II; it is receiving another $3.8 billion in military aid this year. While Israel has an advanced defense industry that produces missile defenses, cybersecurity tools, and crewless aerial vehicles, it still needs big-ticket items from the United States, such as fighter jets and aerial tankers."
The U.S. also provides Israelis with diplomatic cover in the United Nations and shares intelligence with its strongest Mideast ally.
As recently as December 2022, Politico reported that "the rightward trend in Israeli politics is also eroding what once strong bipartisan support for the country in Washington, especially among Democrats who are increasingly willing to criticize Israel despite blowback on the campaign trail was."
Right-Wing Ideologies Among American Jews
American support of right-wing groups in Israel is not new.
In an essay by Judith Tydor Baumel, a Senior Lecturer in the Department of Jewish History at the University of Haifa, she notes that  despite the "liberal trend" among American Jews, there have been times during a 30-year-period when "a nationalist‐Jewish right‐wing movement flourished in the United States."
"During the 1940s, the right‐wing Zionist Irgun delegation ‐ more commonly known as the Bergson Boys ‐ made its impact among American Jewry, while the late 1960s and early 1970s were punctuated by the appearance of Meir Kahane's militant‐nationalist Jewish Defense League (JDL)," Baumel wrote.
Baumel noted that right‐wing Jewish nationalism has a certain appeal to American Jews, including both liberal and Orthodox, that can sometimes fuel "right‐wing trends in the American Jewish community."