The Democrats are fielding 20 presidential candidates, each with positions on critical issues ranging from job creation to deal with the environment.
But underlying all their positions is a central issue to any democracy: How much corruption can the nation handle?
Americans are suffering through the most corrupt presidential administration in history. We have never seen nepotism, cover-ups, venality, using a public office for private gain and avoiding the law so blatantly displayed and televised on a daily basis.
Political corruption is defined as "the dishonest use of a position of elected power to gain a monetary advantage."*
Americans who expected outward displays of intelligent, ethical and professional behavior from elected officials cannot comprehend how Trump's barbarians entered the White House.
In the process, blatant corruption is now on full display in a seriously broken and failing system.  As this video shows, corruption is now part of the political and social class system.  The fact is that wealthy individuals and corporations have more power in the legislative process than average Americans. The reason is that money drives the whole process. Unlimited campaign contributions from corporations overwhelm anything individuals can contribute to getting the attention of their elected officials at the state and national levels.
This problem is so bad, Transparency International created a Corruption Barometer, which found in 2017 that 44% of Americans think corruption in the White House is more pervasive now than 36% in 2016. Also, 70% of Americans think the government is doing less to fight corruption in 2017, an increase of 20% from 2016. And not surprisingly, 33% of Blacks think the police are highly corrupt. Other results from the Corruption Barometer paint a bleaker picture.
Corruption Is The New Normal
So as Americans evaluate which candidate to support in 2020, they should consider how much corruption the nation can tolerate?
Will it be skewed towards candidates that take big corporate contribution in exchange for future favors?
For example, Republican Senate Leader Mitch McConnell has increased his net worth to $24 million in six years on a salary of $193,400 a year. How did he do it?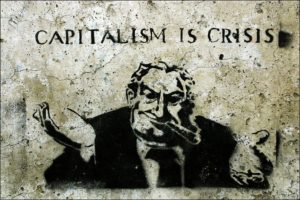 On the Democrat side, Joe Biden is taking corporate contributions and has already lined up Larry Summers, JP Morgan's Peter Scher, KeyBank's Don Graves, and an ex-Goldman Sachs investor Eric Mindich, as his fundraisers, according to economist Matt Stoller.  That's the norm and voters can easily see how much candidates receive in big donations from sites, such as www.opensecrets.com.
In 1787 Scottish historian Alexander Tyler wrote, "The average age of the world's greatest civilizations has been two hundred years. These nations have progressed through this sequence: From bondage to spiritual faith; from spiritual faith to great courage; from courage to liberty; from liberty to abundance; from abundance to complacency; from complacency to apathy; from apathy to dependence; from dependence back again into bondage."**
Tyler's description of the ascent and descent of societies resembles what we are seeing today. Americans can control this rate of descent into corruption by choosing the least corrupt politicians, but there is no guarantee this collective wisdom can reverse the trend.
To track this rising level of corruption, Mother Jones magazine has started a corruption project that will track instances and causes of political corruption. This is a major effort and there will not be a shortage of stories in the most advanced democracy in the history of the world.
*Mark Grossman, Political Corruption in America: An Encyclopedia of Scandals, Power, and Greed; Grey House Publishing, 2017.
**Ibid.