As you'd expect, it is hot and humid here. Some complain it is scorching heat, but frankly, I like it. Sitting around for eternity in the heat has its benefits. You don't get many visitors. People here, many who you'd know by name, spend most of their time alone, soaking up the sulfur fumes, pulling tar off their bodies, and putting dirty rags on their open sores.
But, you know all about that.
I'm here to tell you to vote for my old friend Donald Trump.
Donald and I made our first deals when he working on the Grand Hyatt Hotel in Manhattan. That city was a great cesspool for political favors, bribes, and all the things you need to do to make the most money. I loved it. Nothing was too much. This made Donald a great client. After we did the hotel deal, Donald saw what I could do. Then, he wanted more. It was like his niece said, it was always "too much and never enough." She knows what she is talking about, but that was much later.
You see, we don't have any calendars here. Everything is always today, except for the bad memories, like that thing I did to the Rosenberg's, clipping Manhattan of taxes, ruining the careers of people more talented than me in Hollywood, spending all that time in the bathroom at Studio 54.
But Trump didn't care about any of that.  He liked it. He was a great client. But when I got AIDS, he didn't know me anymore. But that was no surprise.
Trump was a lot like his father, Fred.  He was another guy who cheated the government, like the time he got federal subsidies to build houses after the war and pocketed some of the money. Then, he was sued by the Feds for not renting to blacks. Of course, he did it, but we went to court and said it was a bookkeeping error or something. Who remembers? Better yet, who needs to remember because I met with the judge before the case even started. Do you think everything is like you see on "Law and Order"?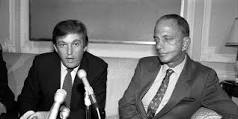 So, after I saved Trump's ass from that case, he became my best friend. He learned everything from me.
I told him to do whatever he wanted. And as long as I was on retainer, he could lie, cheat, and steal. I knew the local politicians, judges, the Cardinal in Manhattan, even that hayseed Joe McCarthy from that cheese state. Once you know what it takes to grease a deal and file a counter-lawsuit, you can always get what you want.
That's a lot different from what the Rolling Stones said: "Getting what you need" is for fools. Get it all. That's why Trump picked an immoral lawyer to head the Justice Department.
Imagine what I could have done if I could have gotten to that other guy in the closet,  J. Edgar Hoover? But I'm getting off track. Maybe the Sulphur fumes are getting to me.
So, that's when I told Donald to memorize this "1. Never settle, never surrender. 2. Counter-attack, counter-sue immediately. 3. No matter what happens, no matter how deeply into the muck you get, claim victory and never admit defeat." *
Trump is doing that now. He is my devil in Washington. But whoever thought he would be able to fool so many people? I fooled a jury or courtroom at a time, paid off some greedy judges and politicians, but this is ridiculous. I wonder why so many people want to be deceived? Maybe they worship the Devil after all.
So that's why I am endorsing Trump. He is like me: immoral, has no conscience, hates everyone except himself, and is infected with an insatiable ego.  He is like me, Trump is successful because he is evil.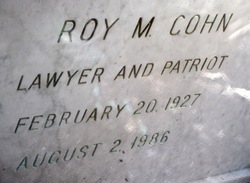 But I also have to make a confession. Maybe there is too much sulfur in the air here and around the White House, but on my gravestone, it says I was a lawyer and a patriot.  I was neither. I had a law degree, but my kind of law was practiced in the alley, not in the fancy courtrooms you see on TV.
As for being a patriot, that's a joke, too. That was a cover since most people would never confront a sociopath who says he is a patriot, plus I was pursuing a trumped-up cause with that Wisconsin drunk.  If anything, what we did was the opposite since we made the country weaker.  But it looks like my old friend Trump stole that trick from me, too. When you say you're a patriot, no one even knows what that is.
But as for me, people should agree I was consistent. I lied my whole life, taught those lessons to Trump, and I even lied on my gravestone. Some things never change.
*Sam Roberts cited in "How Donald Trump and Roy Cohn's Symbiosis Changed America," Vanity Fair, August 2017.
More on the despicable Roy Cohn is available on these sites:
https://www.kcrw.com/culture/shows/scheer-intelligence/the-man-who-created-a-president-from-beyond-the-grave
https://www.sonyclassics.com/wheresmyroycohn/