In a CBS Morning show interview today, West Virginia Senator Joe Manchin, a conservative Democrat from West Virginia, cautioned President-elect Joe Biden to appoint a moderate Cabinet if he wanted to work with a Republican Congress.
As part of his rationale, Manchin said program proposed by progressive Democrats cost the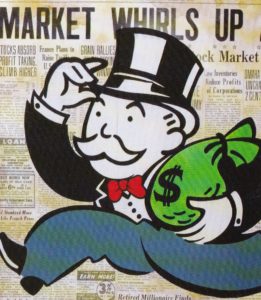 party votes and even contributed to Republican gains at the state and national levels nationwide.
Among the "too liberal" programs that Manchin cited were the Green New Deal, defunding the police and "socialism."
Of these, Manchin conveniently forgot that he was an advocate and beneficiary of corporate socialism for almost his entire political career. Manchin was elected to the Senate 2010. Before that, he was a professional politician in West Virginia. His state is dependent on coal mining, farming, oil and gas, and related energy industry production.
So, as a professional politician, Manchin knows better than anyone about federal subsidies, tax breaks for his corporate donors, and how to divert federal money for the big corporations in his state. He knows how to game the system for big business. That's what fills his campaign chest.
He also knows how corporate socialism works. What he does not like is the form of socialism that benefits average families. This is why his comments today were intentionally misleading. They were designed to slander the progressives who want to close corporate giveaways and divert that money to social programs.
Corporate Welfare Queens in West Virginia
Corporate welfare takes numerous forms.  Often, it comes in the form of tax loopholes, lending programs, subsidies, grants, and tax credits. In many cases, the tax credits were initially supposed to be temporary, but Congress often keeps extending them as a perpetual giveaway.
The problem is that West Virginia has been a beneficiary of corporate socialism for over 50 years. In one study, West Virginia ranked 12 among all 50 states (Alaska was number one)  as having high corporate subsidies. (The rankings are based on the subsidies' size as a percentage of gross state product.)
Corporate welfare has been a target of liberals and conservatives for years. Even the conservative Cato Institute shares a common goal with Progressives on this topic. "The latest outrageous example of corporate welfare comes from West Virginia, where Republican‐​turned‐​Democrat‐​turned‐​Republican governor Jim Justice is asking for $4 billion–$5 billion in subsidies for coal-powered utility plants."
This conservative group found that corporate welfare costs American taxpayers over $100 billion annually.  The Cator Institute added that this cost is much higher because these direct costs "distort the economic decision‐​making process and limit the creative destruction that drives innovation and economic growth."
Manchin's comments were intentionally misleading and designed to slander progressives who want to end corporate welfare and boost social programs.
Even the  West Virginia Governor is a Corporate Welfare Queen
Among the largest beneficiaries is the Governor of West Virginia, Jim Justice.  According to this report in MarketWatch, his family's Justice Farms of North Carolina, which is owned by the family of Justice, hit the Market Facilitation Program limit of $125,000 earlier this year and "was the biggest recipient of soybean subsidies in West Virginia."
These current farm subsidies stemmed from the trade war with China.  To compensate farmers for their sales losses to China, Trump and  Republicans passed a $16 billion in aid for farmers that covered some 40,000 farms and businesses nationwide.  And this is just an example of corporate socialism for farmers.
Manchin Defends Corporate Welfare, But Criticizes "Socialism"
Joe Manchin is considered a moderate or conservative Democrat, but he has often been considered a closet Republican. It's not surprising that his criticism of  some elements of the Progressive platforms—the Green New Deal, Medicare-for-All, a national minimum wage—consider them "too radical." The problem is that most Americans support more comprehensive health care programs and more aggressive pro-environment regulations. Doctrinaire conservatives and progressives oppose Manchin's anti-socialism criticism.
This means the caveat for the incoming Biden administration is too temper Manchin's tepid, middle-of-the-road policy suggestions. Go with the will of the voters. This means adopting more programs proposed by Progressives and opposing corporate welfare in all its forms.