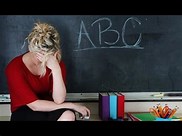 During the summer, teacher strikes in West Virginia, Arizona, Oklahoma and Kentucky all focused on issues relating to pay and benefits, but one important factor was also addressed: Teachers working full time cannot afford to buy or rent homes near where they work.
This is especially true in school districts close to major cities and in expensive coastal communities. The situation is only getting worse as housing prices rise due to decreasing inventory and rising mortgage rates.
As a result, school districts and other government agencies report they are losing teachers and other public servants because people simply can't afford housing on their modest salaries.
When this happens, teachers move and that increases teacher turnover. "As of now, California's teacher turnover rate hovers around 8%. Using evidence from the 2012-2013 Teacher Follow-Up Survey conducted by the U.S. Census Bureau, this report estimates that between five percent and 10% of California's annual teacher turnover rate can be attributed to high housing prices, predominantly in its coastal counties," according to Kate L. Glassman.
While this may not sound like an issue related to buying a home, think again. If you are looking for a home in a high-performance school district, retaining good teachers is essential. The other reality is that homes in good school districts demand higher prices and often prove to be better investments. According to a paper by Vincent La, parents are willing to pay approximately up to 4% more for houses within walking distance of top-rated schools.
Enter the idea of offering subsidized housing or allowances to qualified teachers. While providing teacher housing subsidies is growing, it is not a new idea. Proponents say providing room and board to soldiers or apartments to teachers who work on Native American reservations have been used for decades. The Santa Clara (California) Unified School District built teacher housing 15 years ago.
Now, it is happening in San Francisco, Palo Alto, Miami, Los Angeles, Newark, Indianapolis, Hartford, Newark, Santa Clara, Greensboro, Boston, Aspen, and the beach community of Nags Head, North Carolina. Even Key West, Florida, which saw its housing stock decimated by Hurricane Irma, is planning housing for teachers and police on city property as a means of retaining and attracting qualified employees.
Teachers Are Underpaid, But Help is Available
The idea of providing housing subsidies exists because teachers are not well paid. Teachers' salaries are about 30% less than other comparably educated workers and this gap is greater than most other industrialized countries, according to Michael Hansen of the Brookings Institute.
This situation became worse after the 2008 recession when school districts reduced expenditures. "Nationally, inflation-adjusted teacher salaries are down nearly 5% since the onset of the recession, and all of the protesting states have seen reductions of 6% or more from their peak," Hansen said. Even when teachers get a modest raise (striking teachers in West Virginia received a 5% raise with an average salary of $45,240), the increase does not keep pace with rising housing costs.
At the same time, school districts came under more pressure to recruit and retain teachers. This helped give the housing subsidy idea traction.
Today, subsidies are becoming more common. In some districts, the competition is high and often involves only a handful of units. But if you qualify and are approved, the results are exceptional.
Monica Jones, a New York City special education and early intervention educator, formerly lived with relatives in Queens, but when she heard about Teachers Village, she applied online and she was approved within two months. Today, she pays $1,750 a month in a year-old building compared to a one-bedroom apartment in Brooklyn that she said would demand at least $2,500. Her two-bed, two-bath apartment in Newark, N.J., is only a 20-minute train ride to the World Trade Center. Her savings in transportation costs alone are about $300 to $500 a month.
In Kitty Hawk, North Carolina, the Dare County Education Foundation operates two affordable teacher housing complexes, the Run Hill Ridge and Hatteras Teacher Housing that offer a total of 36, below-market rent apartments. The 2-bedroom, 2-bath units go for $750 per month. Offering the apartments has proven to be "a valuable recruitment and retention tool, especially since teachers have only received one cost of living increase or pay raise over the last five years," according to Elisabeth Silverthorne, executive director of the Dare Education Foundation.
One beneficiary of the teacher subsidized housing program in Hoke County North Carolina is LeChae Johnson, 29-years-old, a dance teacher at West Hoke Middle School in Raeford, North Carolina. After working as a teacher's assistant in Guilford County for four years, she became a full-time teacher with a master's degree in physical and health education. As a first year teacher, Johnson is making $35,000 a year plus a 6% salary supplement from Hoke County.
After getting her job at West Hoke Middle School in June, her principal told her about Echo Ridge apartments, available exclusively for teachers in Hoke County. She was lucky. She signed a lease in July 2017 and moved in a month later. She now pays $700 a month for a two-bed, two bath apartment, and well below the prevailing rent for a similar unit in the county of about $1,300 a month, according to Realtor.com.
On the other coast, the California Housing Finance Authority funds the School Teacher and Employee Home Assistance Program for teachers, administrators, school employees and staff members working for any California K-12 public school. Loans are made to first-time, low- to moderate-income homebuyers for up to 4% of the home's purchase price or appraised valuation, whichever is less. There also is assistance for closing costs. The requirements are straightforward: You must be a first-time homebuyer; make it your main residence; not have non-occupants or co-borrowers; you must complete homebuyer education counseling; and, meet the Authority's income limits for this program. Mortgage rates vary and you have to find a private approved lender.
At the national level, the Teacher Next Door program, open to teachers in pre-K through 12, boasts of being the nation's largest home buying program. The program is self-sufficient and privately funded, in large part from its Realtor partners. The company said it has helped "several thousand teachers" purchase homes and offers a range of benefits from grants of up to $4,170 (available in all states) to down payment assistance, and no broker, applications and up-front fees, as well as free appraisals and home buyer representation.
"Too many times, the people who dedicate their lives to teaching our kids and keeping us safe, make far less than the average income for the communities they serve. Our mission is to serve them by helping them achieve the dream of home ownership, in whatever neighborhood they choose," according to Stephen Parks, the firm's National Director.