As the Democratic presidential primary in Iowa gets closer, it should make the distinctions between the candidates even more clear.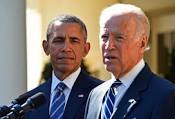 One of the main differences between the more moderate Democratic candidates and those of Bernie Sanders and Elizabeth Warren is that they have a very different view of the Obama administration. Specifically, these groups differ on what it accomplished, and more importantly, what it failed to accomplish.
This is an important distinction because it reflects directly on Joe Biden, Obama's vice president during Obama's eight years in office.
The general view among many left-leaning Democrats is that Obama ran as a progressive, and used his experience as a community organizer, to show how he would accomplish grass-roots, long-overdue change.
In some ways, Obama also said he would "drain the swamp" of corporate interests in Washington and reduce the influence of money in politics.  But in these fundamental, grassroots, progressive-based priorities, he failed miserably.
Obama caved into corporate interests. This was evident when he brought in old-line Dems with hard corporate connections. Later in his second term, he OK'd an unprecedented bailout designed by Bush and missed a historic opportunity to re-shape the banking industry after the 2018 recession caused by mortgage fraud and the unregulated issuance of complex swaps and other derivatives tied to mortgages.
This has been discussed before in this article, Remember Biden's Role in the 2016 Recession. This article discussed how Obama and Biden failed to reform the self-serving financial system when he had the votes to do it, and how Obama did nothing to advance the long-overdue financial reform. Instead of threatening the bankers with more regulations, or even better, jail sentences, Obama said he wanted to be their friend and help them out of when he termed a PR problem. In return for his naive largesse, Obama was snubbed by these same bankers months later after the historic bailout deal was finalized.
Andrew Yang Says Obama Disappointed Him, Too
The newest twist is that even Democratic candidate Andrew Yang said he felt disappointed by Obama and what his administration could have accomplished if he had acted on his campaign promises to reform government.
In this New York Times interview, Yang said he felt Obama "could have done a lot more."  (Watch the video or read it.) This is an understandably polite understatement because Yang is still in the presidential race and cannot openly criticize Obama.
But more importantly, this disappointment in Obama is a bad reflection on Biden.
Based on his own words, Biden did not have a serious disagreement with Obama on major policies, including the wars in Afghanistan and Iraq, as well as the all-important bank bailout program that was formulated by George Bush, the Republican establishment, and then fully implemented by the Obama-Biden administration.
So, as we move ahead, Biden says he has re-invented himself and regrets his votes in favor of the Iraq War, and to curtail the testimony of Anita Hill and other women who would have shed more light on now-Supreme Court Justice Clarence Thomas' office sexual innuendoes.
Today, voters should ask whether Biden is just following the Obama playlist by saying he is a reformer or does he still have a foundation in pro-corporate-leaning policies?
If he remains a moderate Democrat, Biden will not have the vision to begin to implement the long-overdue changes to the current big money-based access to government and the excesses of unregulated capitalism.