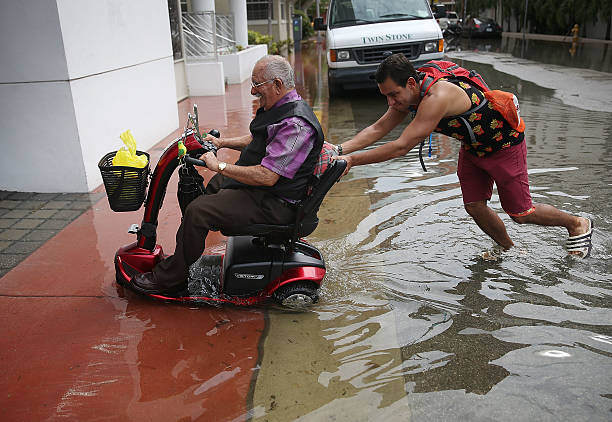 Florida Governor Ron Desants boasts that the state is all about "freedom," but his version of freedom" is myopic, dangerous, and not in the best interests of average residents.
While a recent data analysis by Smart Asset that found residents of Manhattan and San Francisco earning over $650,000 can move to Miami and save about $200,000 annually, there is a huge tradeoff. While these people may save money due to lower taxes and a cheaper cost of living, it's not the whole story.
Florida has many problems due to Mother Nature (flooding and hurricanes), partisan government, an influx of refugees, voter suppression, deficient public education, high crime rates, an anti-science philosophy, pollution, and a long tradition of organized and informal criminal gangs.
The state is also grossly mismanaged by Governor Ron Desantis.
Some of the state's serious problems result from acts of nature, while others result from ideologically driven right-wing Republican politicians looking to force their agenda on a state where most voters are Democrats.
Today, the state is only one hurricane away from facing another major financial debacle.
"Over the past 18 months in Florida, we've had 15 companies decide to stop writing new business," Mark Friedlander, the Insurance Information Institute's spokesperson, said. In June 2023, Farmers Insurance was the latest to drop coverage in Florida.  If a hurricane only brushes the state, it will give the property insurance companies the excuse they need to raise or cancel thousands of insurance policies.
But even with all of these problems, Ron Desantis is on the campaign trail raising money, while the state's problems are ignored by the Governor and his Republican legislature.
Here are some statistics that are unwelcome by Desantis, his Republican legislature, and the Florida Chamber of Commerce:
Crime in Miami
Based on FBI data, Miami rates 48.1 on the violent crime index compared to New York City, which ranks 37.7 on the violent crime index, while San Francisco has a violent crime rate of 39.6.
In the property crime category, Miami has an index rating of  62.7 compared to New York, which has a rating of  31 on the property crime index, while San Francisco has a property crime index rate of 79.2.
(The FBI defined violent crime as composed of four offenses: murder and nonnegligent manslaughter, forcible rape, robbery, and aggravated assault. Property crime includes burglary, larceny-theft, motor vehicle theft, and arson. The object of the theft-type offenses is taking money or property, but there is no force or threat of power against the victims.)
There are also seasons in Miami where crime is apparent.
Miami: Florida's Wet Dream
Miami floods in areas at certain times of the year. The problem is due to rising water levels, high tides, and the porous limestone sublayer on which roads and buildings are built. Experts ascribe all this as a byproduct of global warming.
The problem is that Desantis, as a right-wing Republican, cannot even admit that global warming exists. Like people who get killed by guns, some Republicans say there is no solution to gun violence, including any form of gun control.
Flooding and global warming are similar. Desantis has not proposed a statewide study force since he cannot admit that global warming is the cause of some environmental issues, such as green algae and urban flooding. Most global warming and flood preparedness initiatives have been done at the municipal level and for a good reason.
Miami is only six feet above sea level, so Desantis' inaction will have long-term problems for Florida residents, including those living in multi-million dollar condos near the water's edge and average citizens.
How bad is the problem?
For average homeowners, the threat of rising sea levels means they will have to pay more in flood insurance while their property values decrease and their mortgage payments remain constant.
According to an article by Nicolas Rivero of the Miami Herald and published on WUSF, 56% of Miami-Dade County is less than six feet above sea level, and most of this terrain has become roads and developed.
"The Southeast Florida Regional Climate Compact expects sea levels to rise 3 to 8 feet over the next century, putting these low-lying areas at risk. As sea level further rises, they're going to flood more easily, they're going to drain more slowly, king tides are going to get at them more frequently, and storm surges are going to be increasingly devastating," Harold Wanless, a University of Miami geology professor, said.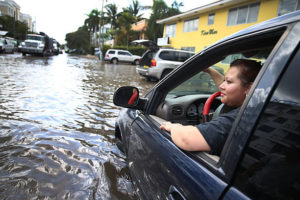 Projections from the NOAA calculated that by 2120 (only 100 years from now), the world's oceans could rise by 14 feet. This would mean that residences on high ground (Miami is only about 20 feet above current sea levels) would be dry. Still, the city below would not have roads, sanitation processing plants, or clean water processing plants. "All those things are the unfortunate reality of the future, and it won't wait until sea levels have risen 20 feet," Wanless added.
Climate Denial is Ron Desantis' Official Florida State Policy
Mind control is an official Florida state policy. Former Florida Governor, now Senator Rick Scott, and now Desantis both rail against "woke" people and procedures,  but Scott and Desantis are pros when it comes to dictatorial thought control.
When Rick Scott became Florida governor in 2011, officials in the Florida Department of Environmental Protection (an oxymoron, if there ever was one) were told to avoid using the words "climate change" or "global warming" in statewide reports, emails, or documents, according to former DEP employees, consultants, volunteers and records obtained by the Florida Center for Investigative Reporting.
"We were told not to use the terms' climate change,' 'global warming,' or 'sustainability,'" said Christopher Byrd, an attorney with the DEP's Office of General Counsel in Tallahassee from 2008 to 2013. "Our superiors communicated That message to me and my colleagues."
 Ron Desantis' Covid Policy Failure Killed Thousands
Desantis has his version of "freedom," but it relies on denying scientific evidence. In the case of the COVID epidemic, Desantis' enacted an entire set of laws and regulations that made the COVID virus easier to spread.
When COVID was first identified, Desantis said it was a "seasonal" sickness akin to the flu.
He then did the following:
Attacked the efficacy of COVID-19 vaccines;
Ridiculed federal infectious-disease expert Anthony Fauci;
Opposed all efforts by local governments to require that people wear masks or remain home from work to reduce the spread of infection.'
Passed a law protecting businesses from lawsuits regarding their COVID prevention actions;
Petitioned the Florida Supreme Court to investigate COVID vaccines;
Created a "Public Health Integrity Committee" comprised of opponents of lockdowns, federal vaccine mandates, and child vaccinations;
Attacked the Food and Drug Administration and the U.S. Centers for Disease Control and Prevention for providing dangerous advice;
Pardoned all Floridians arrested or fined for violating local-government requirements about wearing masks or social distancing.
Ron DeSantis' Fatal COVID Policies Killed More Seniors in Florida Than Any Other State
While Desantis worked to build up his populist credentials, he was killing people.
According to the U.S. Centers for Disease Control and Prevention, "30,060 seniors in Florida, 65 and older, died due to COVID. This is 36% of the 82,065 COVID deaths recorded in Florida and is a higher death rate than any other state," the Palm Beach Post reported.
"The figures are worse for seniors 85 and older. Florida leads the nation with 9,828 COVID-related deaths in that age group. This death rate is greater than the death rates in far-more populous states of California and Texas," according to the Palm Beach Post.
Florida Has Some of the Nation's Lowest-Paid Teachers
As of April 2023, "Florida ranks nearly dead last when it comes to average teacher pay, according to a new report from the National Education Association (NEA)," according to a report.   The NEA found that Florida is 48th in the country for average teacher pay, with teachers making about $51,230.
Florida's censuring of books that it considers "inappropriate," combined with Desantis' appointment of politically-connected cronies to administer some of the state's universities and his attacks on "wokeism," have created a toxic environment for professional educators. As a result, there is a  shortage of about 5,200 teachers in Florida.
Florida: The Nation's Fraud Capital
The Miami-Ft. Lauderdale-Pompano Beach area is the number one location in the nation for mortgage fraud, according to a Q3 2022 study from CoreLogic. This distinction occurred even though the population of Miami is about six million compared to the New York metropolitan area, which has a population of 19 million and ranks fourth in the same fraud data report.
The types of fraud most commonly reported in Florida are those related to phony debt collections, identity theft, COVID-related federal fund distributions, impostor scams, credit bureau, banking and lending, mobile phone, and auto-related (fake accidents and inflated repair costs).
Expect to Pay More in Homeowner's Insurance
As of 2022, "Floridians pay the highest homeowners insurance premiums in the nation for reasons having little to do with their exposure to hurricanes," said Sean Kevelighan, CEO of the Insurance Information Institute (III). "Floridians are seeing homeowners insurance become costlier and scarcer because for years the state has been the home of too much litigation and too many fraudulent roof replacement schemes."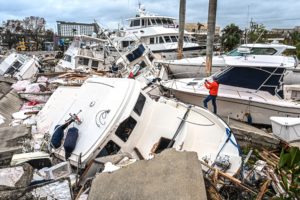 The III also found that  79% of all homeowners insurance lawsuits over claims filed nationwide happen in Florida, even though Florida's insurers receive only 9% of all U.S. homeowners insurance claims, according to the Florida governor's Office.
More Homeowner's Insurance Problems Ahead
The Florida Office of Insurance Regulation said a typical Florida homeowners insurance policyholder was $2,505 in 2020 and $3,181 in 2021, an increase of 47%, even though the state did not suffer any direct storms over the past three hurricane seasons (2019-2021).
As a result of paying numerous claims, "an unprecedented number" of home insurance companies left Florida or ceased business in 2022, according to Insurance.com.  If the state suffers a severe hurricane season, it will prove catastrophic to homeowners and the insurance industry.
Greedy Real Estate Developers Have Tremendous Power
Since many real estate developers are active in Florida, city zoning and elected officials are under tremendous pressure to balance the needs of average citizens against the deep pockets and legal zoning warfare conducted by real estate developers. Congestion in downtown  West Palm Beach means people living in six-digit high rises have difficulty exiting their garages during rush hour. Zoning disputes and big money is also causing some municipalities and towns to bulldoze open spaces for new developments, much to the consternation of long-time residents.
This situation often strains the ethical limits of elected officials. The Republican mayor of Boca Raton, Susan Haynie, pleaded guilty in 2021 to misuse of public officials, public corruption, and failure to disclose voting conflicts to two commercial real estate firms.
In a 2021 case, the FBI charged two men who extorted bribe payments from FBI undercover agents who were posing as real estate developers and entrepreneurs.  The bribes were needed to obtain preferential treatment for real estate projects.
South Florida: The Center for Medicare Fraud
"South Florida, without question, is the ground zero for healthcare fraud," Omar Pérez Aybar, a special agent for the South Florida Health and Human Services Office of Inspector General, said. These frauds against Medicare and Medicaid were commonly for medical equipment never delivered to patients. This included ordering everything from the unneeded hip, knee, and back braces to selling Medicare beneficiary data to telemarketers. He added that about 90% of durable medical equipment companies in Florida are fraudulent.
Real Estate Title Fraud in South Florida
"Unfortunately, in South Florida, we are the title fraud capital of the world. So, nothing surprises me anymore," according to Marty Klar, Broward County's property appraiser.
In one bold and elaborate case, criminals filed civil lawsuits mainly against the elderly, low-income homeowners, banks, and others to falsely claim they owned property. They then received property titles through identity fraud or by saying they were uninhabitable or abandoned.
Organized Crime is Big Business in Florida
"There is also a great deal of organized crime in South Florida. Those guys who are in the rackets learn from each other. One specializes in Medicare, another in fake stock promotions, another in online scams, and they teach those around them. This has been going on for decades. This is reminiscent of the adage of specialization. Some communities are good at building furniture, and some are good at stealing furniture," according to L. Burke Files, a Tempe, Arizona-based financial fraud investigator for 30 years, said. One reason the area has a consistently high incidence of fraud is that Florida's long history as fraud capital has also created "fraud schools," Files said.
Don't Expect Too Much from Florida Law Enforcement
Florida was the third state to join the Confederacy in 1861, and it had a solid right-to-work anti-union state. As a result, Florida has not vehemently prosecuted white-collar crimes.
"The Florida criminal justice system has consistently treated white-collar crimes as less critical than conventional crimes despite the financial and emotional impact on victims and society. Citizens of Florida encounter a maze of difficulty when trying to find which government agencies handle complaints and investigations on white-collar crime cases, Crystal T. Broughan, a fraud attorney in Jacksonville, Florida, wrote in a 1996 report, Florida's Approach to White Collar Crime: Coordinated or Chaotic?
A local sheriff reiterated this view: "Florida has a fragmented and inefficient approach to investigating white-collar crimes. White-collar crime victims do not bleed, so white-collar crime is not a priority for local law enforcement," Sgt. J. Layman, Broward County Sheriff's Office, said on Oct. 30, 1997.
Ron DeSantis' Anti-Citizen Record
Florida's Republican Governor and presidential candidate Desantis have not changed the state's tradition of being pro-corporate, anti-consumer, and open to bestowing political favors to cash donors.
It has also created a pro-crony political environment, attracting the wealthy nationwide who want "freedom" from the state's favorable tax rates and pro-business regulations. This has attracted real estate developers, private equity, and hedge fund execs who can pay lower state taxes while enjoying their carried interest tax loopholes at the federal level.
The attraction of sun and fun has also attracted shady foreign politicians and mobsters to Florida. Former Brazilian President Jair Bolsonaro slipped out of Brazil and into Orlando. Meyer Lansky lived in Miami for decades. John Gotti (the late boss of the Gambino crime family) and Nicodemo Scarfo (the boss of the Philadelphia crime family) both owned homes in Fort Lauderdale. The "King of Cocaine," Pablo Escobar,  had a house in Miami, while "Cocaine Godmother," Griselda Blanco, had a penthouse in Biscayne Bay.
The Sunshine State also included serial molester Jeffrey Epstein and tax evader Donald Trump among its residents. Today, gangsters from Russia, Israel, and South America have expanded their gambling, money laundering, drug business, and internet frauds to Florida.
Bottom Line
So, if you want to save money on low taxes by moving to Miami or elsewhere in Florida, you should stop and think: Do you want to move to a state dominated by a right-wing ideologue and his captive legislature? Do you want to buy a residence in a state that Mother Nature can devastate overnight? If so, bring your wading boots to enjoy your "freedom."