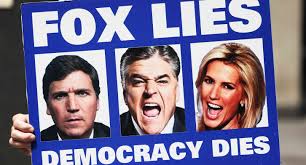 Ban FOX News propaganda.
If the US military wants to keep morale high, why is it allowing the openly MAGA FOX propaganda network to be shown to active duty soldiers?
FOX is not based on facts, and taxpayer dollars should not be funding a network that wants to overthrow the US government.
It's no wonder that military people were involved in the Capitoal attack to overthrow the government. FOX played a role in organizing in indoctrinating people, so stop using taxpayer money to help overthrow the US government.