DeSantis and his fascist cronies in the Florida state legislature have already implemented actions that would outrage any voter if they were not so preoccupied with job security, paying the bills, and managing the household.
If Florida in 2023 indicates a future version of the U.S. under a (god forbid) president Ron Desantis, Americans better start preparing for a new version of the Dark Ages.
Consider the following actions that the Florida MAGA legislature, led by DeSantis, has already made into real-life laws and policies.
These extreme directives are what you'd expect from Florida, the third state to join the Confederacy in 1861, which wants to change the goals of the post-Civil War Reconstruction and then undo all the policies enacted by FDR since the New Deal.
Unfortunately for the MAGA crowd, the programs they want to end are the same ones that deliver benefits now enjoyed by hundreds of millions of Americans. These include Social Security, Medicare, unemployment benefits, job safety regulations, clear air and water, modern infrastructure, and others that ensure Americans have safe personal and work environments.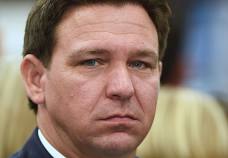 But DeSantis has other plans. Here is the list of fascist actions DeSantis now has in place in Florida. He seeks the presidency to make these plans and other more draconian ones a reality for all Americans:
DeSantis let thousands die to prove his anti-vax myth. The Progressive Investor reported that while DeSantis was pushing his anti-COVID-Q-Anon-inspired messages, 34,557 Floridians died of COVID in 2021. By 2023, over two years after the COVID death rate peaked in the U.S. (December 2020 to January 2021), the Becker Hospital Review found that Florida ranked third in the nation, behind New York and California, with the most significant average daily deaths per 100,000 people. (The data was from March 23, 2023.)
But his administration intentionally misrepresented statewide COVID infection and death rate data to keep DeSantis' deceptive COVID political message alive. This led to an investigation by the Florida Department of Health into the state's reporting of COVID-19 deaths. The investigation began after DeSantis said the official reports "overstate the number of deaths," according to a report by the South Florida Sun-Sentinel.
DeSantis' anti-science messages caused people to die. Since April 1, 2021, Florida has "by far the highest COVID death rate among the country's six most populated states — California, Texas, New York, Illinois, and Pennsylvania rounding out the half dozen," the Tampa Bay Times discovered.
One main possible contributor was Florida's vehement attacks on COVID vaccinations, despite scientific proof of their efficacy. The Tampa Bay Times found that Florida "lags in nearly every age group when it comes to getting a first booster, let alone a second."
Guns are ok to buy, spray paint is not. It's illegal to buy a can of spray paint in Florida unless you are 18, but you can buy a gun or rifle with no questions asked.
That's right, spray paint is regulated, but guns are now. The FBI does not have statistics on spray paint deaths in the U.S., but it is safe to assume that it is not many. Guns do kill and they killed about 49,000 people in 2021, according to the CDC.
DeSantis' vehement anti-environmentalism. "Ron DeSantis has been accused of a "catastrophic" approach to the climate crisis after he launched his campaign for U.S. president by saying he rejects the "politicization of the weather" and questioning whether hurricanes hitting his home state of Florida have been worsened by climate change," writes Oliver Milman in The Guardian.
DeSantis has previously dismissed concerns about global heating as "leftwing stuff," Milman wrote
Florida is one hurricane away from financial disaster. "Over the past 18 months in Florida, we've had 15 companies decide to stop writing new business," Mark Friedlander, the Insurance Information Institute's spokesperson, said. In June 2023, Farmers Insurance was the latest to drop coverage in Florida. If a hurricane only brushes the state, it will give the property insurance companies the excuse they need to raise or cancel thousands of insurance policies.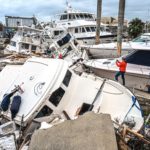 Flooding and global warming are similar. Desantis has not proposed a statewide study force since he cannot admit that global warming is the cause of some environmental issues, such as green algae and urban flooding. Most global warming and flood preparedness initiatives have been done at the municipal level and for a good reason.
Miami is only six feet above sea level, so Desantis' inaction will have long-term problems for Florida residents, including those living in multi-million dollar condos near the water's edge and average citizens.
How bad is the problem?
For average homeowners, the threat of rising sea levels means they will have to pay more in flood insurance while their property values decrease and their mortgage payments remain constant.
According to an article by Nicolas Rivero of the Miami Herald and published on WUSF, 56% of Miami-Dade County is less than six feet above sea level, and most of this terrain has become roads and developed.
Florida is the nation's fraud capital. Governor Ron Desantis and Senator Marco Rubio have decided to pervert the word "freedom" to meet their definitions.
In both of their campaign ads, they decry the infringement on the "freedoms" of Florida residents. These restrictions are not ever listed, but they claim "the radical left," meaning Democrats, are encouraging rising crime rates and illegal immigration. This is an obvious lie, but it plays well with MAGA followers.
"Freedom" to the authoritarian governor DeSantis and Rubio means that shady business people and investors will find a haven in Florida and can avoid prosecution for fraud.
These frauds range from tax evasion to shoddy construction, running fake charities and tax-exempts, and real estate scams. All these fraudsters are now welcome in Florida because DeSantis has known that fraudsters are welcome in the Sunshine state. Florida also ranks as the state with the highest number of internet frauds, according to a report from the Federal Trade Commission (FTC).
In 2018, about three million consumer complaints were filed with the FTC, and Florida ranked No. 1 for fraud and No. 4 for identity theft, according to the latest FTC Data Book. The top fraud scams affecting Floridians were debt collection, identity theft, and impostor hoaxes, according to the Progressive Investor.
Real estate sales development and construction are also ripe for fraud.  A December 2021 report from WFTV, "Central Florida becoming the Wild West of real estate scams," found that people were selling land they did not own via online real estate sites.  Rental frauds are also common. Another area ripe for investigation is Community Redevelopment programs that involve HUD money and public-private real estate developments that misuse federal and state monies.
Real estate developers, hedge funds, and private equity managers are also moving to Florida because of its lax oversight and no state personal income taxes. Wealthy people in these industries are huge beneficiaries of the carried interest tax loophole that allows people to pay capital gains taxes at the ordinary income tax rate, huge savings that are not available to ordinary people, and a massive tax loss to the federal government. Paying less tax makes it attractive, but paying no personal state income taxes also means fewer Florida state services.
DeSantis targets public corporations. Forget the myth that Republicans favor free markets. DeSantis proves the opposite. That's why he is targeting Disney Corp. This considerable theme park draws millions of tourists to Florida because it has an inclusive employee company policy that hires gays, transsexuals, and people with disabilities.
This explains why "Disney is locked in a battle with Florida governor Ron DeSantis that began when, under pressure from employees, then–Disney chief executive officer Bob Chapek spoke out against Florida's Parental Rights in Education Act. This law, dubbed the "Don't Say Gay" law because its vague language prohibiting instruction on gender identity and sexual orientation seems designed to silence any acknowledgment of LGBTQ Americans in grades K–3, was DeSantis's pet project, according to Heather Cox Richardson.
"In retaliation, DeSantis led Florida Republicans to strip Disney of its ability to govern itself as if it were a county—as it has done since its inception in 1967—putting the board that controlled Disney under the control of a team hand-picked by DeSantis. But before the new board took over, the old board quietly and legally handed control of the parks to Disney," Richardson wrote.
As the Progressive Investor noted, Disney in Orlando is an economic powerhouse. The facilities attract a million visitors weekly and employ over 75,000 people. This tourist activity generated over $75 billion in spending in central Florida, according to a  2019 study by Oxford Economics. This breaks down to about $1,000 for every tourist.
DeSantis tries to make COVID vaccines illegal. The Brevard County Florida Republican Executive Committee voted to declare the Covid vaccine (all of them) biological weapons and urge they be banned from the state. The resolution says "COVID-19 injections are biological and technological weapons" and that an "enormous number of humans have died or been permanently disabled," according to Ray Hartmann of Raw Story.
"As stunning as that may sound, it's just part of a growing wave. Over half a dozen Florida county GOP officials have passed similar resolutions.
"Not content to interfere in the personal decision to have an abortion, the proposed resolution demands that it be illegal to give or receive Covid vaccinations in Florida.  This means that 67% of Brevard residents and 93% of Brevard seniors who have already received COVID-19 vaccinations did something that would be regarded as a criminal act after this law was implemented. Thank the Constitution for the prohibition on enforcing ex post facto laws. Florida already bans requiring anyone to get the vaccine. Now they seek to criminalize a decision to get one," Hartmann said.
DeSantis pushes to eliminate abortions. DeSantis has signed one of the most restrictive abortion bans in the country and tried to silence conversations about race and LGBTQ issues. He's used undocumented migrants for political theater, transporting them across the country even when they aren't in Florida to try and score political points. He's retaliated against critics like he tried to do with Disney when the company objected to his "Don't Say Gay" law.
DeSantis's "accomplishments" in Florida here on Civil Discourse as well, in May, when he signed a law designed to strip academic freedom out of higher education in the state.
Want a police state? DeSantis has one in the works. Don't wait because Florida has one in the making. DeSantis announced he was reactivating Florida's "State Guard," inactive for the last 75 years. He complained that Florida's National Guard was understaffed and the state needed a force of volunteers to respond to hurricanes and other public emergencies.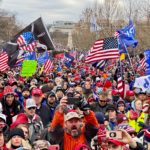 Fair enough. But as it turns out, volunteers who signed up for the State Guard found that the program was something other than the civilian disaster training they had anticipated. Reporting in the New York Times calls the movement "heavily militarized." Participants had to train in "marching drills and military-style training sessions on weapons and hand-to-hand combat." Many people who complained were removed from the program or quit.
DeSantis hates unions. Like any fascist, DeSantis hates organized groups that could oppose him and push for expanded workers' rights.
That's why "DeSantis promotes anti-union laws against public service workers and teachers. "The bill prevents dues from being deducted from workers' paychecks, forcing union members to make separate payments. Also, it requires gauging how many eligible employees are dues-paying union members. If fewer than 60 percent of eligible employees are members, unions must be recertified as bargaining agents.
"In addition, it will allow public employers to challenge union applications to renew registrations as bargaining agents if the employers think the applications are inaccurate," according to the Tampa Bay Times.
DeSantis' Goon Squad. DeSantis' police recruiting program attracts thugs. "Numerous police officers lured to new jobs in Florida with cash from Governor Ron DeSantis's flagship law enforcement relocation program have histories of excessive violence or have been arrested for crimes including kidnapping and murder since signing up, a study of state documents has found," according to the Guardian.
DeSantis has spent more than $13.5m to date on the recruitment bonus program, which he touted in 2021 as an incentive to officers in other states frustrated by COVID-19 vaccination mandates.
However, among the almost 600 officers who moved to Florida and received the bonus – or were recruited in the state – are a sizable number who either arrived with a range of complaints against them or have since accrued criminal charges, the online media outlet Daily Dot has discovered.
Florida loves to ban books. Under his leadership, DeSantis claimed that Florida schools were not banning educational materials. Instead, they removed "pornography" from school libraries and classrooms. DeSantis claimed the notion that Florida was involved in book banning was "a nasty hoax because it's a hoax in service of trying to pollute and sexualize our children."
Two pigs on the ticket? When DeSantis announced he was running for president, he had Elon Musk at his side. Musk is an arrogant thug whose companies receive billions in federal subsidies, yet he hates the government.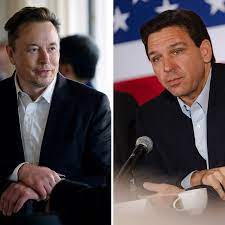 DeSantis' war on higher education. "DeSantis signed a bill prohibiting the state's public colleges and universities from continuing their diversity, equity, and inclusion (DEI) programs. It accomplishes that goal by prohibiting spending state or federal dollars on that work.
"The bill also restricts, to the point of extinction, meaningful discussion of the history of racism, sexism, and other forms of what the bill deems "oppression" in this country in core classes. It ends funding for programs to increase and retain diverse faculty and students.
Welcome to the new Florida, where you can't learn about anything that makes the narrow-minded governor uncomfortable," according to law professor Joyce Vance.
DeSantis' war on diversity. "DeSantis has put Florida's schools in his sights as he wages a cynical and destructive culture war that he believes will one day deliver him the presidency of the United States.
"In a recent bill signed by DeSantis, he bans the study of diversity in public higher education. The Washington Post described the effects of the new law:
"Under the new law, Florida's public colleges are prohibited from spending state or federal money on DEI efforts. These programs often assist colleges in increasing student and faculty diversity, which can apply to race and ethnicity, sexual orientation, religion, and socioeconomic status. The bill does not prohibit colleges from spending money on such programs if they are required by federal law," according to Dan Rather and Elliott of Steady.
Florida teachers among lowest paid in U.S.  Florida ranks as one of the worst states for paying public school teachers, the Progressive Investor wrote. While Florida lawmakers posted misleading social media posts about raising teacher pay, National Education Association (NEA) "data shows that in the 2018-2019 school year, when DeSantis entered office, Florida ranked 47th in the nation for average public school teacher pay, giving teachers an average annual salary of $48,314. It ranked 48th in the 2020-2021 school year, costing teachers $51,009. According to Staci Maiers, an NEA spokesperson, the state is estimated to continue to rank 48th for the 2021-2022 school year."
Golf carts—Yes, golf carts. There are concerns about minors driving golf carts in Florida, so the Confederate state recently passed a new state law, CNN affiliate WJFX reported.
The Daily Kos reported that anyone under 18 will soon need a permit or driver's license to drive a golf cart, the station reported last month.
The bill was signed into law by Gov. Ron DeSantis and goes into effect October 1.
According to a news release from the Florida Highway Patrol, the law was passed after a 3-year-old driving a golf cart struck and killed a 7-year-old in Fort Myers, Florida.
The release said that the 3-year-old was approaching a right curve near a home on private property when the front of the cart hit the 7-year-old standing in the front yard.
The release said the older child was taken to a hospital and pronounced dead. The 3-year-old wasn't hurt.
DeSantis' perverted Florida is alive and well
Like most other fascist takeovers in modern history, the one in the Sunshine State is available to anyone with brains and eyes to see.
What's astounding is that Florida has more registered Democrats than Republicans. But, the Florida Democratic Party has been asleep at the wheel for decades. No one has fought Republican gerrymandering, voter suppression, or packed courts to oppose the Republicans at the state level.
The Dems have failed to connect with Cubans in Miami, new immigrants, the under-served rural whites and Blacks in central Florida, and the Panhandle. The state is also hobbled by older people, who are often immobile, and the snowbirds from Democratic states who are "just passing through" and want to have lunch and bob in the pool during summer months. Gated communities further isolate people, making generating political consensus and momentum harder. To top it off, Florida Democrats in the U.S. House and Senate, who are not well-known leaders, effectively ignore state politics.
All this explains why the national media said DeSantis won the governorship in "a landslide" in the last 2018 election. One political commentator said this happened because the Dems ran Charlie Criss, "a political corpse," as the Dem candidate against DeSantis.
It is no wonder that the opportunistic, elitist DeSantis sought a national audience by adopting fascist campaign planks established by Trump. His policies were lapped up by his cronies, who are being promised more political pork if he gets elected.
Florida has seen frauds and scandals before. DeSantis is merely upholding a long tradition dating back to the Civil War of profiteering, intimidation, figurative, as opposed to actual, lynchings of his opponents, thuggery, fear, and voter suppression. He represents big money in a nation that is already an established oligopoly. He attracts political thugs, nationalists, and people who have lost their American identities in a fast-paced, technological, global world.
Maybe the Dems should pray for a hurricane to sweep DeSantis from power because it looks like neither the law nor elections will remove him.